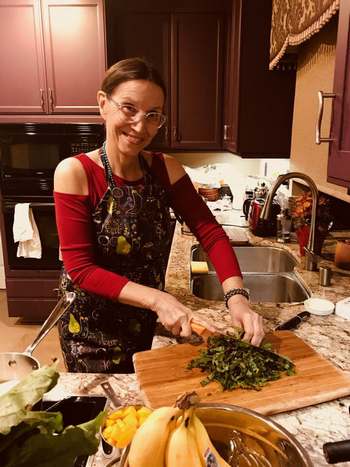 I'll be laser focusing on digestion and food in this series of workshops. Good digestion is key to good health. Even if you feel you eat well, I'm sure you'll agree there's always room for improvement.
We begin with some basics about digestion and how Ayurveda views it. Irregular eating schedule, gas, bloating, constipation, diarrhea are considered serious issues. I often have clients who take a variety of supplements to calm their digestive system when the real issue is changing their food choices. If you view food as medicine, you can make a positive difference in addressing a variety of issues ranging from dry skin to arthritis. You'll learn a simple, balancing formula you can follow when planning meals.
Cost is $80 (includes cost of all ingredients) – If you sign up before August 1st you can save $10 (early incentive cost is $70).
To register, contact Donna (donna@a4hl.net) and she will confirm that you got one of the spots (there is a limit of 8 attendees). Should this series fill up, Donna will put you on the list for the next one (Tentatively- October 2019 timeframe).
Part 1 - The Fundamentals & Benefits of the Ayurvedic Diet/The 6 Tastes

We know that it is important to our health to eat fresh and nourishing food. But did you know that your digestive fire must be strong to process that food and extract its nutrients? If you find yourself eating without feeling hungry or skipping meals, this is an indicator that your digestive fire is low.
Stoking the digestive fire is the goal of Ayurveda because our very lives depend on the efficient processing and ability to absorb the food we eat. Learn how to determine the current condition of your digestive fire and how to improve it
We will discuss the medicinal quality of herbs and spices and how they add zest to your meals and rejuvenation to your life. You will be given the opportunity to taste common kitchen herbs. This will be a lecture/discussion format.
Part 2 - Introduction to Ayurvedic Meal Planning & Cooking

Food can be the medicine that heals the mind, body, and soul or the cause of disease. Key to healthy eating is meal planning. Learn how to prepare simple ayurvedic meals which are fresh, tasty, healing and sustainable. Understand the food we eat is either augmenting or extracting and the importance of having both.
Enjoy an eye-opening introduction to using spices in your cooking to facilitate digestion and perk up simple meals that can be made in 60 minutes or less. We will cook a healthy and delicious meal together and then enjoy the fruits of our labor.