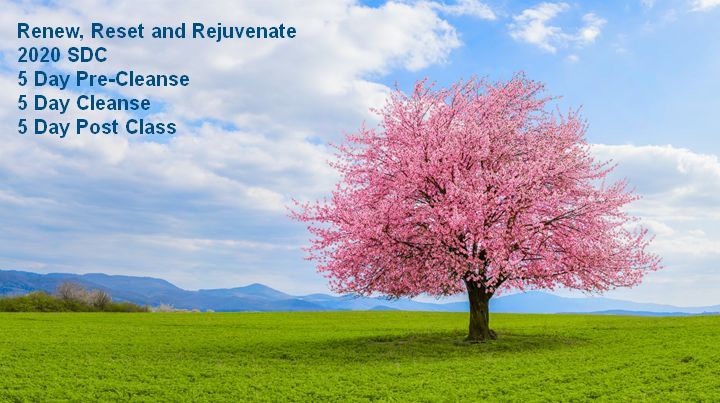 The orientation is available for long distance attendees.
After the orientation and receiving your product package you can do the detox anytime,
at your own convenience.
Get all the information you need for this Spring Detox Cleanse.
In Ayurveda, spring is a season of energy, vitality, and celebration, but the changing environment creates changes in one's constitutional balance that should be addressed via diet and lifestyle changes you'll be learning about.


Springtime can affect some of us differently than others, e.g., the resulting pollen of blooming spring flowers and trees can exacerbate allergies.


Winter tends to favor more eating at a time when the body's digestive fire actually burns lower than usual, leading to a buildup of toxins. There's no better time than energetic springtime and a good cleanse to get rid of them!


You'll increase your intake of warm fluids such as herbal teas and walk more—skip the car and walk your child to the bus or school, or skip the elevator to take that flight of stairs—whenever you can.


You'll add some digestive herbs with your meals (included in your fee) & eat a mono-diet of an easy dish to prepare called Kichari (recipe provided).


It's also important during the spring season to avoid all heavy, oily foods to cut down on dairy intake (these tend to slow you down), and increase the bitter taste.


Picking grains such as millets, quinoa, or couscous that help your body cleanse naturally, and add appropriate kitchen and ayurvedic herbs to your daily regimen.


On the fifth evening of the cleanse (time this so no commitments the next morning) you will take herbs to make you evacuate.
Cost of Cleanse $275 includes Mung Beans, Rice,
Digestive Herbs, Info/Recipes, for 5 days of Kitchari.
Special pricing for students & Donna's clients -$250 (Save $25)
Includes directions: recipes, food lists, cleanse summary to follow,
digestive herbs, yoga practices, mung & rice, and ongoing
support to answer any questions during the cleanse.
Long Distance Clients: Cost of Cleanse + shipping.